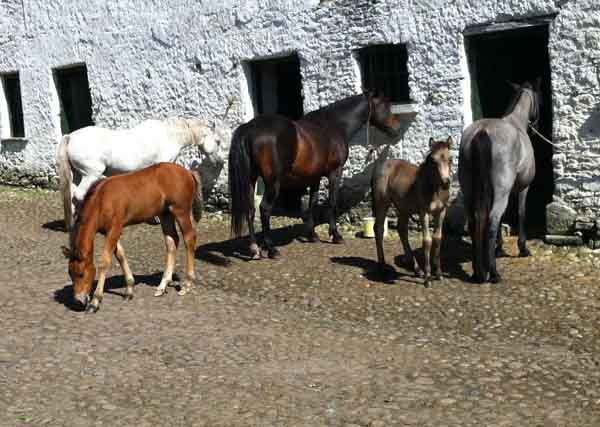 Bruckless ponies are integral to the way of life at Bruckless House, with the original stable building pre-dating the construction of the house. Bruckless House Farm is involved in the breeding of quality Connemara ponies: suitable for riding and driving in the rough domain of Donegal: hardy and yet with a kindly streak and friendly dispositions. In the present herd driving dominates the performance scene although some are used under saddle too.
High Performance Riding Ponies
Performance has always been the bottom line in Connemara Pony production here: the Evans brothers, Alexander and William rode their ponies from Bruckless to Clifden in 1987, covering the long road in six days before entering the ponies into the rings. They rode Sweetwall Wanda (M8389) and Bruckless Gaffalla (shown below, 2007)(G1204) respectively, selling both ponies at Clifden that year.  In 2008, Gaffalla found his way back home in retirement after a most successful career in Irish Pony Club and Riding Club activities.
Bruckless Mares
Breeding implies selling stock and frequently there are ponies for sale at Bruckless. Some young fillies are being kept with the intent that they become brood mares retaining the breed lines of the present mares.